SUSAN SINCLAIR
http://www.vacation.com/travel-agents/usa/?name=susan-sinclair/25538
My travels have included Australia, New Zealand, Africa, Europe, Canada, USA and most of the Caribbean and Mexico. I also has a special love of cruising, both riverboat and ocean. My passion has always been travel, I got my start in travel while working for a manufacturing company. I was involved in arranging incentives and making travel arrangements.
For my most successful incentive, I won the Caribbean Award by "Meeting and Incentive Magazine" for promoting products and increasing sales. The trip that won the award was for 200 distributors from all parts of the world meeting in Bermuda for a long weekend.
I have been a Travel Consultant for over 20 years. I started by planning my husband's business trips. We were very lucky those trips included the whole family. I would arrange business time and family time all on a budget. While my husband was attending to business my son, Rob and I would take sightseeing trips in the countries we were visiting. Whether it's for business or pleasure, I have years of personal, hands-on experience that can provide you with an excellent travel experience.
BETTY DONNELLY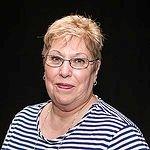 Betty has been a travel consultant since 1995. She started her travel career working in Sussex County and joined Skyland World Travel six years ago. Although she resides in Andover Township and works here in Hackettstown, her clients seek her advice and knowledge from throughout the country.
A few of her favorite destinations that she has traveled to include Ireland, Mexico,Canada, the Caribbean and Bermuda. She also has enjoyed visiting popular US destinations such as Hawaii and many states here on the mainland. She has sailed on a number of cruise lines and is one of our cruise group specialists.
JILL STROUD VITALE
Jill has enjoyed traveling to many different countries and across the US for many years, and has some extensive tips and ideas for cultivating the perfect trip for you. She was born and raised in Tennessee, but has lived in South Carolina and Staten Island, New York where, thirty years ago, she met her husband. She then moved to New Jersey in 1989 and settled here in Long Valley with her husband in 1997.
Jill has enjoyed traveling to most of the Caribbean Islands, via many cruise lines and land, but her favorite island is Aruba, where she is an Aruba Certified Expert. She is also certified in St Lucia and Jamaica. She and her husband have travelled many times to Cancun, Playa Del Carmen and Riviera Maya, Mexico. However, her favorite trip has been touring Italy visiting Rome, Florence, Venice, Sicily and the Amalfi Coast, and looks forward to a return trip to the North of Italy. Jill can help you plan your next European Tour, and is a Tauck Tours specialist.
She has also cruised the Adriatic Ocean aboard the Celebrity Silhouette and is a Celebrity 5 Star Academy graduate. Here in the U.S., her travels to Florida have led her to become a certified Universal Studios Travel Agent, as well as Disney Certified. Need ideas for trips to
California, Arizona, the Grand Canyon, New Orleans, Lake Tahoe? She can help!
Her true passion is traveling and helping others create a customized, seamless vacation experience no matter where their heart desires to go.